More Information
Class will be held outside on our farm. Please bring a sack lunch and we can carry on with Q&A discussion under the open-air shelter.
About the Instructor, Aki Fleshler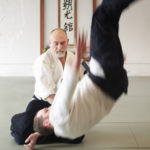 "As a long-time musician, but a beginning improviser, I was seeking a Way of dynamic interaction, where all the players have spontaneity and integrity, with full respect for the other. When I saw Aikido — that was it for me! I jumped into the deep end and never looked back. 50 years later, I see how this has transformed my life in the small and in the large. It is a privilege to share it with you — even just a small taste!"
Aki Fleshler, 6th-degree black belt and 50-year practitioner of Aikido, has taught for 30 years at his dojo (school) in Portland, and internationally for the last 15 years. He is pleased to share his dynamic approach "with beginners of all levels". See more about instructor Aki Fleshler, Aikido and Multnomah Aikikai
---
Cancellation Policy- Any cancellation up to two weeks prior to your event date will be refunded 100%. No refunds or credits will be issued for cancellations received less than 2 weeks before your event start date, however, you may always send a friend in your place if you're unable to attend. If a class needs to be canceled due to a natural disaster, public health crisis, or other act of nature that will prevent the class from being safely completed, then the attendee that made the booking is eligible to collect a full refund or credit for a future class at Long Table Farm.
Please contact us with any questions regarding this upcoming class!