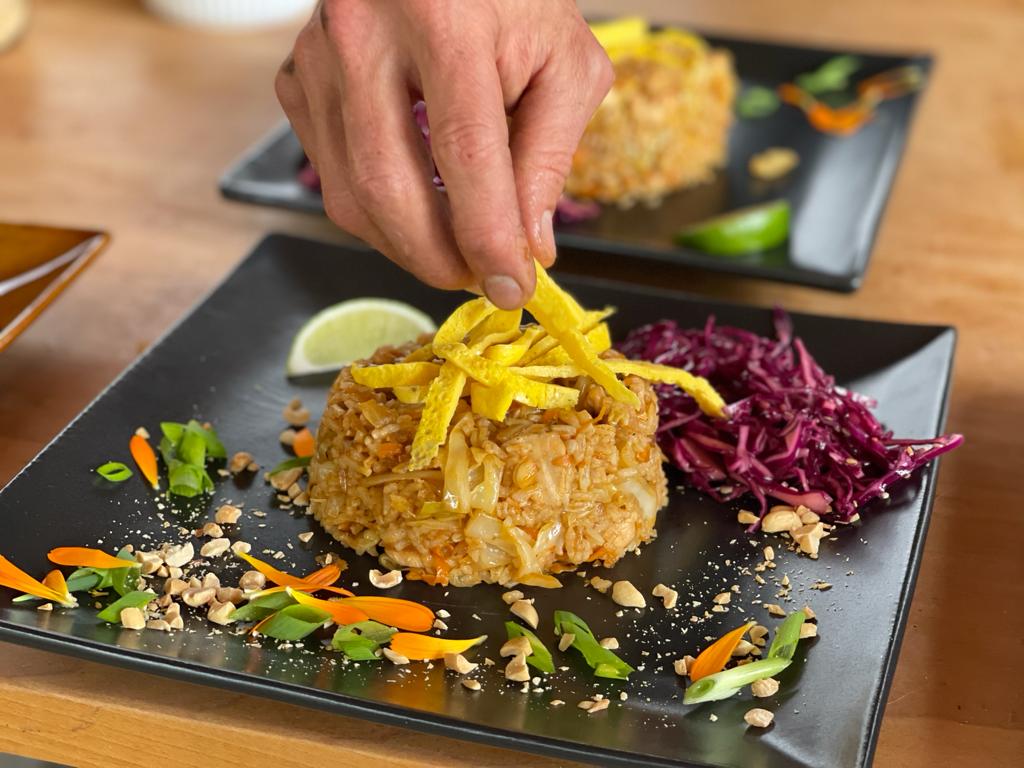 ---
This is a slightly westernized version of a classic Indonesian dish which I grew up on!  It is a great family dish and can be easily improvised upon with ingredients that you have. The addition of a little bacon is an optional fun twist.  The recipe is also great served vegetarian by substituting tempeh for the chicken and adding extra oil when frying up the protein. The ketchup is the secret ingredient which gives the dish its red tint and distinguishes Indonesian fried rice from other countries' versions of the dish.  In Indonesia, this dish would typically be served with a fried egg but we have chosen to top it with egg strips which is a more typical Chinese topping. Have fun and enjoy! – Max Edleson, Long Table Farm
Serves 4-6
---
Ingredients:
3 tbs. Vegetable oil
3 eggs (optional)
Salt
6 cups cooked and cooled White Rice
2 Chicken Breasts or 1 package Tempeh, cut into stir-fry chunks
4 strips of Bacon, diced (optional)
1+ cup Onion, diced
3 cloves Garlic, minced
1 tbs. Ginger, minced
2-4 carrots, grated
4 cups green cabbage, shredded
⅓ cup Ketchup
2 tbs. + 1 tsp. Soy Sauce
Optional garnishes: green onion, chopped peanuts, lime, sambal (chili sauce), fried shallots
---
Directions:
Marinate chicken (or other protein) by cutting up into stir-fry chunks or strips and mixing with 1 tsp. of ginger, 1 tsp. Of garlic, 1 tsp. Sesame oil, 1 tsp. Soy Sauce.  You can either marinate for a short time by beginning the recipe prep with this step or marinate several hours or even the day before.
Crack and scramble the eggs and add salt to taste. Heat large flat non-stick pan, add oil and let heat up and then add egg. Once the egg has cooked through on one side, flip the egg. Carefully remove from pan, let cool and then cut into strips.
Prepare the rest of the ingredients so they are all ready (mise-en-place!). Heat pan (wok, skillet, cast iron) until hot, near but before smoking point, and then add oil.  Getting the pan and then the oil very hot is one of the secrets of stir-fy! Start with the bacon, if using it. Add onion. Add salt.  Once showing signs of translucence (1-2 minutes), add garlic and ginger and continue to stir ingredients as they cook for about one minute.  Add grated carrot and shredded cabbage.  Continue to stir-fry.  When the vegetables are just beginning to soften (~3-4 minutes), add the rice, making sure to continue to mix all the ingredients with the spatula.  As you feel the rice heating up and approaching serving temperature, add the ketchup and finally the soy sauce.  Add any additional salt to taste.
Serve wok family style or plate and add egg strips and any other garnishes on top.