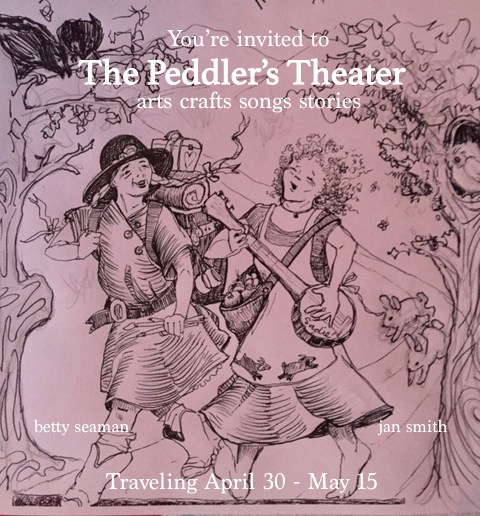 Dear Friends,
Please join us at Long Table Farm (Eva and Max's home) for a potluck dinner and a VERY SPECIAL EVENING of visual art, stories, songs and crafts.
Tuesday, May 9th, 
5:30pm Potluck dinner, 7pm Peddler's Theater
$5 – 10* sliding scale
89242 Fir Butte Rd
Feel free to come at 7 just for the show! It's going to be great!
Jan Smith and Betty Seaman are traveling from their high desert and mountain homes in southern California (Quail Springs Permaculture and Spirit Pine Sanctuary) to share their original live music, stories, arts, crafts, and to enjoy your company and conversation. The Peddler's Theater is their roaming roadshow.
The Peddler's Theater was conceived to bring people together and to inspire us as artists and community builders. Betty Seaman is an artist, skilled crafts person, writer, and natural builder. Jan Smith is an artist, writer and musician.This is their most recent collaboration.
For all shows, 16 years and younger free of charge.
*If you wish to come, please don't let lack of money stop you from joining us! Bring us poems! produce! pie! smiles! We will be so happy to have your company.
Hope to see you at the Peddler's Theater!