We are in need of a specific customization for the WooCommerce e-commerce platform for WordPress. The task would require strong working knowledge of PHP and SQL, as well as experience with both WordPress and WooCommerce.
We have experienced overwhelming community interest in the pizza nights we have offered at our farm. We have been pre-selling pizzas for pickup. The clients select the type of pizza and choose a time slot when they would like to pick up their pizza and then proceed with checkout and payment. We need to be able to limit the amount of pizzas available for any given time slot we are offering.
Here is a screenshot of current functionality: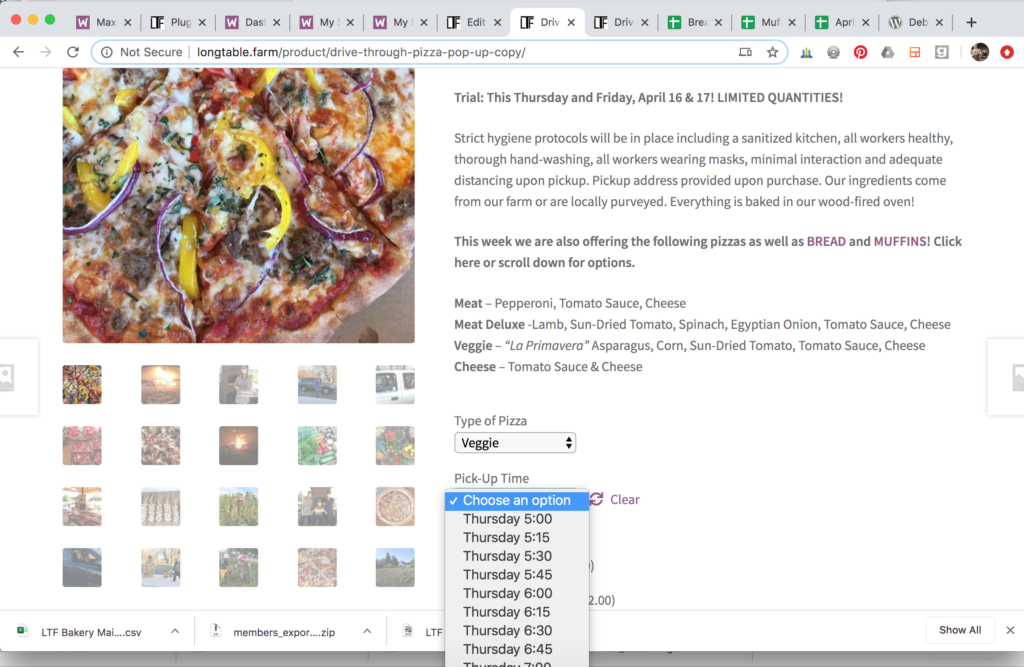 (Click on the image above to see actual working page)
We need a way to keep track of inventory per time slot. For example, there would be a maximum of 5 total pizzas available per time slot so that the drop-down would say: "Thursday 5:00, 5 Pizzas left | Thursday 5:15, 2 Pizzas left | Thursday 5:30, SOLD OUT, etc". These time slots are currently set as values for a product attribute which is used to determine a product variation, all using core WooCommerce functionality. We have not been able to find a plugin to do this specific tast.
We are only currently able to set a total inventory for the whole two night event each week. Orders come in and often orders are stacked on certain time slots. We then need to contact people individually and see if they are willing to move their time slot so that we can make sure to make everyone's order in time. The desired customization would automatically create a manageable quantity of orders throughout the two nights.
If you are interested in taking on this job, please contact us indicating your interest, availability/timeline, include your relevant experience and billing terms. We are interested in this work being completed as soon as possible.